FRIENDS OF THE INSTITUTE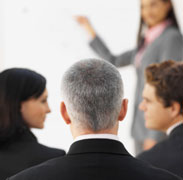 The Institute for Ethical Leadership was founded as a membership organization in 1998 and operated that way until 2005. We recognize the important contribution of Institute Leaders and others who participated in the work of the Institute during that period. While the format and activities have changed, we intend to keep those who are interested in the ongoing work of the Institute informed. We offer the opportunity for people to keep in touch and be engaged to whatever extent they choose by becoming a Friend of the Institute.
Three kinds of activities are immediately available:
Participation in a one-day introductory workshop as part of the Living Legacy Project [link]. This includes presentations by Desmond Berghofer and Geraldine Schwartz on the essence of ethical leadership in the community; experience of the Ethical Leadership Scales [link]; using the Hold Fire and Think process to generate creative ideas for fostering ethical leadership initiatives in the community; and participation in a visioning process to create a network of ethical leaders. The workshop fee is $50 (for 15 or more participants) to cover costs including lunch and materials.
A Facilitator Training Program to prepare people who can work as Facilitators of Ethical Leadership in the community. This is a two-day intensive for those who have already taken the one-day workshop described above. Fee up to $100 is determined by costs.
Arranging connections for Desmond and Geraldine to meet, community, business and education leaders to discuss how to bring the work on ethical leadership to their constituents.
If you are interested in being a workshop participant, taking facilitator training and/or providing connections to others, we would love to hear from you. Contact us by any means below.
Institute For Ethical Leadership
209 - 1628 West 1st Avenue
Vancouver, B.C. Canada, V6J 1G1

Phone: (604) 734-2544 Fax: (604) 734-9723
email: desgerri@creative-learning.ca
Thank you for your interest. We look forward to keeping in touch.